Published in the Daily Mail 3rd December 2021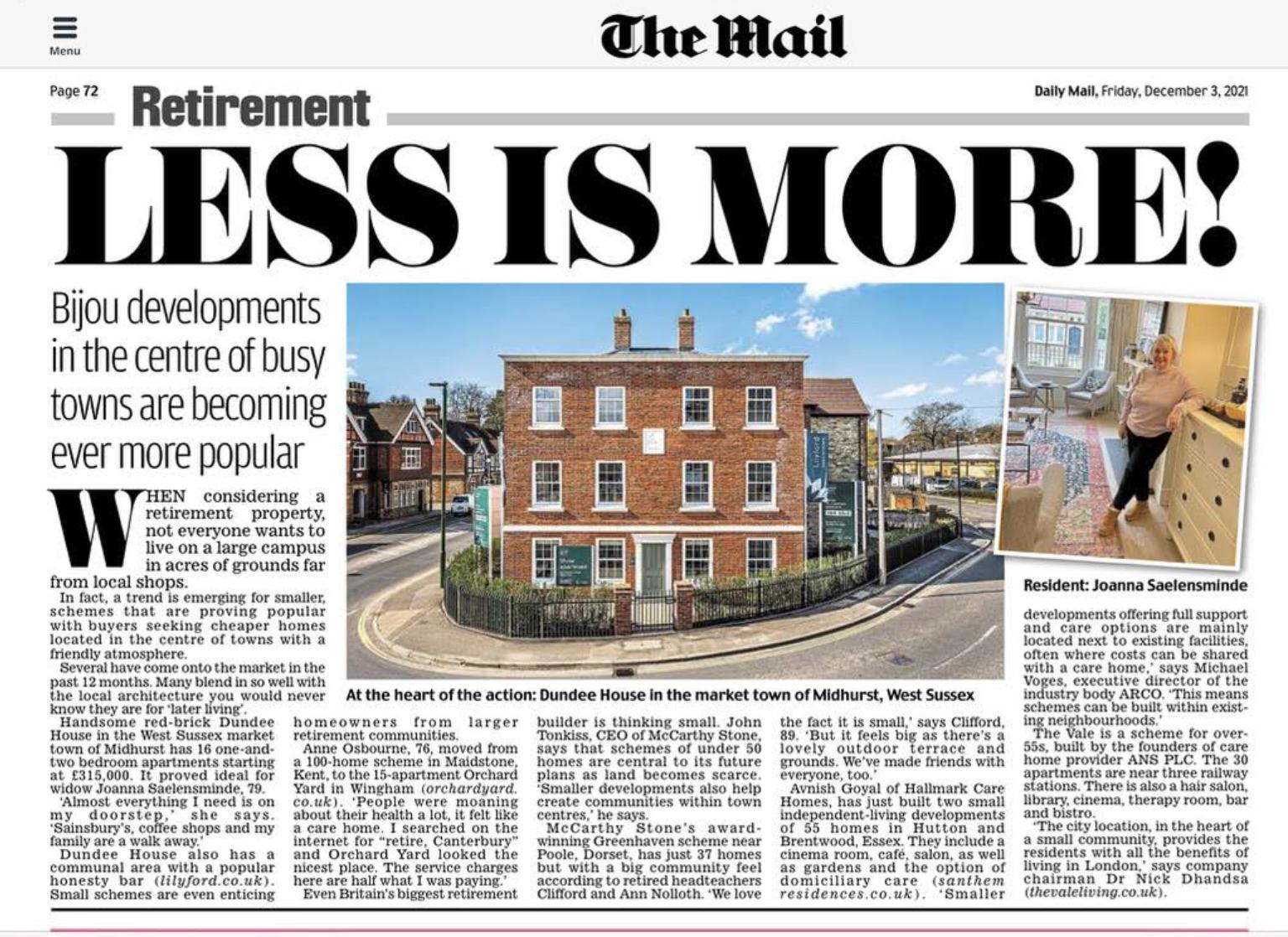 LESS IS MORE!
Bijou developments in the centre of busy towns are becoming ever more popular.
At the heart of the action: Dundee House in the market town of Midhurst, West Sussex
WHEN considering a retirement property, not everyone wants to live on a large campus in acres of grounds far from local shops. In fact, a trend is emerging for smaller, schemes that are proving popular with buyers seeking cheaper homes located in the centre of towns with a friendly atmosphere.
Several have come onto the market in the past 12 months. Many blend in so well with the local architecture you would never know they are for 'later living'.
Handsome red-brick Dundee House in the West Sussex market town of Midhurst has 16 one-andtwo bedroom apartments starting at £315,000. It proved ideal for widow Joanna Saelensminde, 79.
'Almost everything I need is on my doorstep,' she says. 'Sainsbury's, coffee shops and my family are a walk away.'
Dundee House also has a communal area with a popular honesty bar (lilyford.co.uk). Small schemes are even enticing homeowners from larger retirement communities.
Anne Osbourne, 76, moved from a 100-home scheme in Maidstone, Kent, to the 15-apartment Orchard Yard in Wingham (orchardyard. co.uk). 'People were moaning about their health a lot, it felt like a care home. I searched on the internet for "retire, Canterbury" and Orchard Yard looked the nicest place. The service charges here are half what I was paying.'
Even Britain's biggest retirement builder is thinking small. John Tonkiss, CEO of McCarthy Stone, says that schemes of under 50 homes are central to its future plans as land becomes scarce. 'Smaller developments also help create communities within town centres,' he says.
McCarthy Stone's awardwinning Greenhaven scheme near Poole, Dorset, has just 37 homes but with a big community feel according to retired headteachers Clifford and Ann Nolloth. 'We love the fact it is small,' says Clifford, 89. 'But it feels big as there's a lovely outdoor terrace and grounds. We've made friends with everyone, too.'
Avnish Goyal of Hallmark Care Homes, has just built two small independent-living developments of 55 homes in Hutton and Brentwood, Essex. They include a cinema room, café, salon, as well as gardens and the option of domiciliary care (santhem residences.co.uk). 'Smaller developments offering full support and care options are mainly located next to existing facilities, often where costs can be shared with a care home,' says Michael Voges, executive director of the industry body ARCO. 'This means schemes can be built within existing neighbourhoods.'
The Vale is a scheme for over55s, built by the founders of care home provider ANS PLC. The 30 apartments are near three railway stations. There is also a hair salon, library, cinema, therapy room, bar and bistro.
'The city location, in the heart of a small community, provides the residents with all the benefits of living in London,' says company chairman Dr Nick Dhandsa.