Meet the Interior Designers of Dundee House
When we had put so much work into the design and details of the outside of Dundee House, we wanted to ensure that the interiors were equally as beautiful and well thought out. Thanks to Studio Denim, our local Interior Design company, the inside is cosy, elegant and homely. Amelia Heggie, the founder of Studio Denim, has crafted a space which is at once light and airy, warm and comfortable, and we particularly love the sage greens and blues which are carried throughout the space to create a distinctively Lilyford look.
The flooring is incredibly realistic pale wood-effect Luxury Vinyl Tiling, creating a bright and clean feel, whilst also being very hardwearing and practical. Cream carpets in all of the bedrooms are classic and combined with the underfloor heating throughout the building ensure that you new home is always warm and comfortable.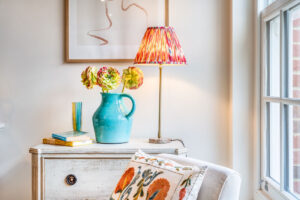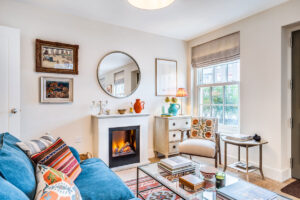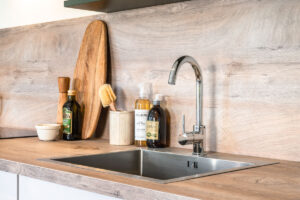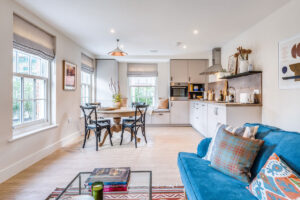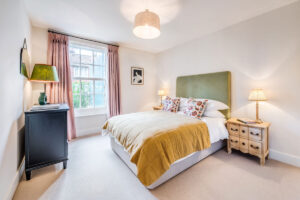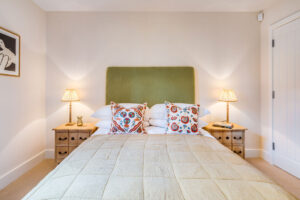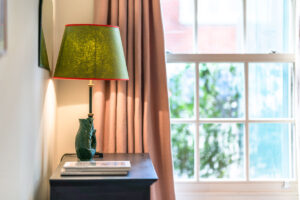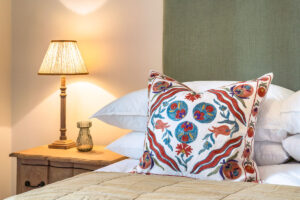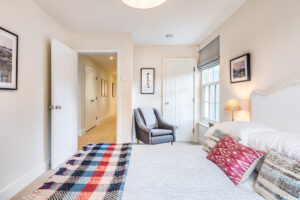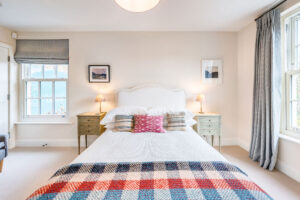 We are particularly proud of the bathrooms, which have many features designed to make them beautiful and practical. The showers are walk-in and tiled throughout in chic pale tiles, which are also non-slip. No shower tray means that access is completely level, and cleaning doors and drains is much easier. The tiled shower seat adds to the spa-like feel and enables a far more relaxing experience, without encroaching on your space, as the shower is simply huge. Double mirrored cabinets above the sink provide three shelves of storage each, as well as electric sockets for razors and toothbrushes, and there is a further shelf beneath the cabinets for all your everyday items. Heated towel rails provide that extra touch of luxury, whilst a discreet panic button in all bathrooms provides peace of mind and independence. Bathrooms provide full length baths with discreet handles and handheld showers.
We are looking forward to seeing the Communal Living Space come to life and become the welcoming hub of Dundee House. Amelia is currently working on creating the perfect space for meeting friends and family over coffee, reading the paper by the fire, and for events with other apartment owners. Sofas and armchairs in soft jewel tones combined with an eclectic mix of cushions, art and decorative features give a contemporary and homely feel. A coffee bar set at the right height makes it the perfect social space, and will be stocked according to owner's preferences, whether that be a certain coffee pod or a particular type of biscuit!